When we released 3.98.0, we promised more frequent snapshots, as the remaining GTK 4 features are landing. Here we are a few weeks later, and 3.98.1 and 3.98.2 snapshots have quietly made it out.
So, what is new ?
Features
There is still work left to do, but a few more big features have landed.
The first is that we have completed the reimplementation of GtkPopovers as xdg-popup surfaces, and split up the GdkSurface API into separate GdkToplevel and GdkPopup interfaces (there's a GdkDragSurface interface too), which reflect the different roles of surfaces:
Toplevels are sovereign windows that are placed by the user and can be maximized, fullscreened, etc.
Popups are positioned relative to a parent surface and often grab input, e.g. when used for menus.
In GTK, popovers have lost their :relative-to property, since they are now part of the regular hierarchy like any other widget, and GtkWindow has lost its :window-type property, since all instances of GTK_WINDOW_POPUP have been converted to popovers, and windows are just used for proper toplevels.
Another major feature is the new infrastructure for keyboard shortcuts. In the past, GTK has had a plethora of APIs to implement key bindings, mnemonics and accelerators. In GTK 4, all of this is handled by event controllers. GtkShortcutController is a bit more complex than typical event controllers, since it handles all the different kinds of shortcuts with a unified API.
Thankfully, most of the complexity is hidden. For widget implementors, the important APIs are the variants of gtk_widget_class_add_shortcut(), which are used to add key bindings. For applications, mnemonics and global accels (with gtk_application_set_accels_for_action()) work the same as before. Additionally, it is possible to create shortcut controllers and shortcuts in ui files.
A set of smaller features has landed in the form of a few GtkTextTag properties that expose new pango features such as overlines, visible rendering of spaces and control over hyphenation. These can now be controlled in a GtkTextView via tags. In entries, they can already be controlled by directly adding pango attributes.
Completions
When I wrote about 3.98, I said that the Drag-and-Drop refactoring was complete. That turned out to be not quite correct, and another round of DND work has landed since. These changes were informed by developer feedback on the Drag-and-Drop API. Yay for user testing!
We introduced separate GtkDropTarget and GtkDropTargetAsync event controllers, with the former being simplified to avoid all async API, which makes it very easy to handle local cases.
We also cleaned up internals of the DND implementation to group DND events into event sequences, handle them in just the same way as normal motion events,  and introduced GtkDropControllerMotion, which is an event controller that is designed to handle things like tab switching during a DND operation.
Finally, we could remove the remnants of X11-style property and selection APIs; GtkSelectionData and GdkAtom are gone.
Cleanups and fixes
As always, there's a large number of smaller cleanups and fixes that have happened.
The biggest group of cleanups happened in the file chooser, where a number of marginally useful APIs (extra widgets, overwrite confirmation, :local-only, GTK_FILE_CHOOSER_ACTION_CREATE_FOLDER, etc) have been dropped. To make up for it, the portal implementation of the native file chooser supports selecting folders now.
Another big cleanup was that GdkEvent is now an immutable boxed type. This was mainly an internal cleanup; the effect on application-level APIs is small, since event controllers have replaced direct event handling for the most part.
One new such event controller is GdkEventControllerFocus, which was split of from the key event controller to provide just focus handling.
GtkMenuButton lost its ability to have mnemonics when it was turned from a GtkButton subclass into a plain widget. This functionality has been reinstated, with a :use-underline property.
The HighContrast and HighContrastInverse themes that are included in GTK are now derived from Adwaita, for a much reduced maintainance burden and improved quality. Trying these themes out in gtk4-widget-factory is now easier, since we added a style menu.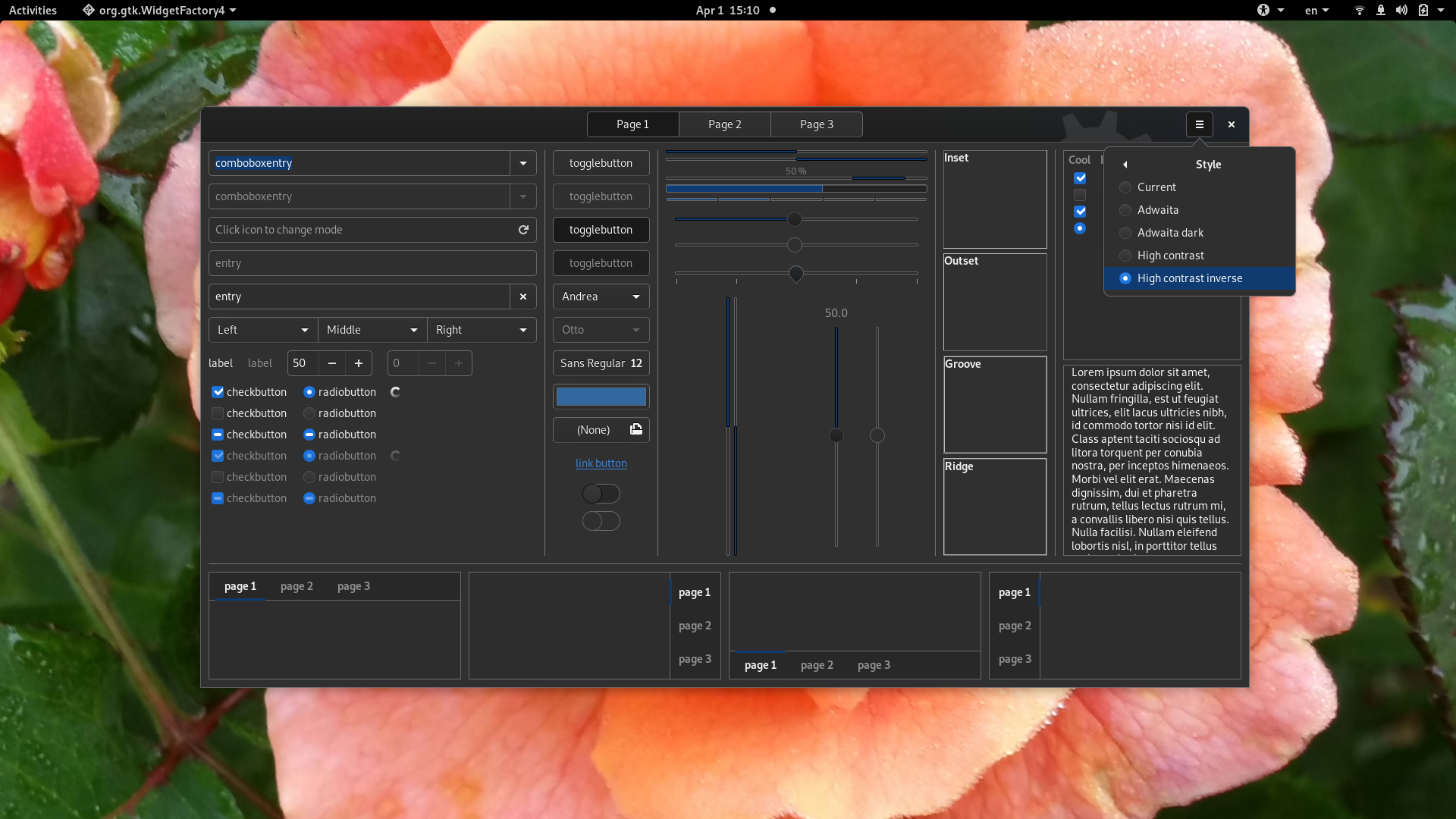 The new HighContrast theme has also been backported to GTK 3.
Whats ahead
We will continue our snapshots and hope to get more developer feedback on the new APIs and features described above.
Here are things that we still want to integrate before GTK 4:
Row-recycling list and grid views
Revamped accessibility infrastructure
Animation API
If you want to follow the GTK 4 work, go here.